Testimonials
The following testimonials were written by just some of my happy sellers and buyers. They have all been kind enough to give me permission to show you their correspondence. Their letters and words are very gratifying. It seems that my down-to-earth and honest approach has earned me many friends - I think that's fantastic!
---
I highly recommend Matt Henry and will definitely use him again for my next real estate transaction. Matt is both a great buyers and sellers realtor. He is very responsive and really listens to understand your real estate needs. He knows the market very well. My first experience with him was purchasing an investment condo just off Main St. This was in the Spring of 2016 when all properties were receiving multiple offers and selling over asking with no subjects, a crazy time! My bid was one of several and not only did he stop the bidding war, he managed to close the deal for me without my having to increase my offer for a third time. He then successfully sold my house in Poco right after the Foreign Buyers Tax was introduced that summer. It was only one of three sales in our area in the following month after the tax was announced. He and his team provided great advice on preparing my home for sale and did an amazing job staging it. The marketing and photos were great! He negotiated an excellent sale price which allowed me to purchase a townhome in Vancouver. Again, he was a great negotiator on the purchase side and got the price reduced materially for me. Thanks to Matt, I am now the happy owner of two properties!
---
Highly recommended. Matt and his team gave us the exact direction and help we needed to get our place showcase ready. He was always there to answer any questions and provide the right feedback.

We ended up getting 15 plus offers and 3 that were far beyond asking. What more could you want?
-J H M
---
Fantastic stand-out realtor in a city overflowing with average ones. Matt has bought and sold multiple properties for me. Regardless of market conditions, season, or any other factors, he has used his expertise and professionalism to take away all of the stress involved with the hunt and subsequent transaction, and gets me numbers that I'm not even expecting. He is a workhorse, and I very highly recommend him to everyone. Thanks Matt!
-Jamie Goodfellow
---
I've known Matt Henry for quite some time and knew he would be the one to help me find my home. It took 6 months, but that's because Matt wouldn't let my buy properties that were going to be problematic along the way. Matt does his research to ensure that what I pay is the true value of my home. When you shop with Matt Henry, it's not a house you purchase, but you're home is what you purchase.
-Samiah
---
I had a really tricky condo to sell over in Marpole with EVERY restriction you could possibly think of...and at the time of measuring (for the wonderful 3D rendering of the space) discovered it was substantially smaller than what I though when buying. Needless to say, the sale seemed daunting. Matt Henry and his team were AMAZING. The professionalism of every member was remarkable and Matt didn't cut corners at all when it came to presentation and preparing the space. By the time the pictures were taken and the place organized as he saw fit...I would have bought it all over again haha. 5/5 for Matt and his team.
-Damien Wild
---
Working with Matt Henry exceeded any of our expectations. This was the third time that we bought and sold a
home but the first time that we had a great experience. Matt came to our first meeting enthusiastic and well prepared, and every interaction after that was the same. Matt was knowledgeable about the area and informed on market pricing. He proposed an efficient sale process and arranged for the staging, blue prints and photographs. His level of attention to every single detail make a difference on the final result.The sale went very well. He brought in 5 offers, one way above asking price! We can't recommend him and his team enough for anyone looking for a great experience as well as great results when buying and/or selling a home!
-Mari Paz
---
I have nothing but high praises for Matt's approach to making the home-buying process a worthwhile one. Matt took the time to help us through the intensive process of finding and buying a home we love, and helped us negotiate a price we were thrilled with. I'd highly recommend Matt over and over.
-Peter Debay
---
We have sold two condos and bought a house with Matt this year. He was absolutely great to work with throughout. Matt is professional, hard working, a good communicator, and a great negotiator. He listened to our needs, had great advice, was very knowledgeable, and brought great strategy to the table. We would wholeheartedly recommend Matt to our friends and family.
-Saar Moisa
---
Matt goes above and beyond to help his clients and is a pleasure to work with. His work ethic and expertise in real estate are invaluable assets to anyone looking to buy or sell.
-Steph Pineyro
---
Matt is obviously passionate about his work. He is energetic and enthusiastic and has a wealth of knowledge about the complexities of the Vancouver real estate market. When it comes to negotiating, believe me, you want Matt representing you. He'll go above and beyond and he's always contactable. He (assisted by Nicola who is extremely helpful) walked me step by step through the process of selling my house and purchasing another. It was a stressful experience with a few twists and turns and I'm so grateful that I had Matt's calm, expert guidance along the way. Thanks Matt and Nicola!
---
Matt helped me buy my townhome in Burke Mountain, then sell it two years later. He was also my agent for buying my current townhome in Port Moody. I would not use anybody else for my real estate needs. Matt is completely dedicated, cares about his clients, and works extremely hard. Matt goes well above and beyond for his clients and I have complete trust in him to always do his best for me. Buying and selling a home is a stressful time and Matt takes all of that off of your shoulders and onto his own. I highly recommend him!!
-Megan OE
---
Matt Henry did an amazing job on our recent home sale. He is fast to respond to any inquiry and his team are always personable and professional. Matt is a superb negotiator and a go getter. He thrives on pleasing his clients and goes the extra mile to ensure getting the best offer out there. We highly recommend Matt, he's got your back and you could not do better.
---
Matt has taken my care of my real estate transactions for many years. I highly recommend him for his personal service, dedication to his clients, and easy personality to work with. Matt's a stand-up guy who know this business inside and out!
-Lori Henry
---
There is not enough stars to rate Matt's professionalism, helpfulness and knowledge of the market. Matt went above and beyond to help me with a purchase of my first property. He was also involved with the reno I needed to do. He even arranged for skillful contractors and was there always to advise on any problem since I've never had any experience with condo renovations. I cannot thank him enough - I know that I would not have been able to go through the process without him. Even my friends who purchased or sold property in the past were utterly impressed with Matt's helpfulness. Matt is an amazing real estate agent and an outstanding individual.
I have been working with Matt for many years and admire his integrity and commitment to excellence.
Matt is that token "gem in the ruff!" He worked tirelessly when helping us find a home for our family. No call was too small and never made me feel like I was bothering him. He's very kind and understands that purchasing a home is VERY stressful...so takes the time to go over things with you so you understand every little detail. For that we are very grateful!
Hopefully we will never need to use his services again...We're that HAPPY!! Thank you Matt.
Our second time moving with Matt, and we couldn't have asked for a smoother process. Sold in a week for over asking, and moved into our new house in 6 weeks!
-Paul Palfreyman & Angie White
---
Having to meet Matt was one of the greatest blessings we have gotten this year. Before we met him, we were very distressed as we had to pull down our 73-year-old charming house off the market without receiving a single offer; we were very hesitant to put the house back on the market. However when we met Matt, we were very impressed and reassured by his thorough knowledge of the market, the variety of his ingenious marketing skills, his sharp business acumen, his endless passion and deep sincerity. After realizing how crucial the influence of a realtor can be to the overall outcome, I now recommend Matt to everyone I know around me. Through Matt, I was able to sell my house and again buy a decent place. Exactly 7 days after we put our house back on the market with Matt, I was able to sign an offer contract. Of course, not all houses will bring about the same outcome, but I truly believe that in the near future, Matt will become one of the most successful real estate agents in this city.
-A.Jeon & R.Kang
---
Matt Henry is an exceptional realtor, who has every good quality you ever wanted in a realtor: he is astute, creative, hardworking, intelligent, determined, knows the Greater Vancouver real estate market and climate accurately and exceptionally well, and is 100% loyal to and ambitious for his clients. He accurately assessed the value of our home, which was a higher value than any other realtor was calculating, aggressively marketed our home, gave us useful but simple strategies for staging, planned a sales strategy, found the right buyer, and sold our house for us at our asking price, all in 10 days!
In addition, he was extremely sensitive to our needs and feelings going through the sale of our family home, and always put our interests and feelings first. Matt Henry is an exceptional realtor and person, and I would highly recommend him as your realtor for all future real estate transactions.
-Vickie Vinaric, B.Sc., B. Arch., B. Ed.
---
Matt Henry comes highly recommended from Dwell Developments. Our experiences have been numerous and very satisfactory every time. We have sold three times and bought three times with him. He is thorough, knows his product and works hard for his clients. He is very professional and calm in all his dealings.
Without hesitation we continue to recommend him to anyone needing a realtor and have full confidence in his abilities.
-Dwell Developments Ltd
---
"We just wanted to thank you for the way that you guys handled the sale of our home on Cloverley St., under what turned out to be some challenging circumstances. We never felt like we were on our own, and you were professional, friendly and approachable, which made us feel like we were being well looked after.
We were very happy with the way that you set up Realtor & public opens, arranged for professional pictures, and the nice and easy way that you both worked together quickly & smoothly to get us the results that we needed to sell our home here and make our new move out to our beautiful next home in the valley.
We would recommend you both to anyone who wants experienced, approachable and determined Realtors that work hard to get the best results they can for their clients.
Once again thank you for all your hard work"
Regards,
-Ron & Sheila
---
As a first time home buyer, Matt Henry completely put me at ease in a stressful situation. Having met him at an open house, he immediately became the top candidate for the buying agent I had been seeking. He is very charismatic, passionate, hardworking, and honest; qualities which he proved through our informative meetings, efficient and clever offer construction, and competitive negotiations. His professionalism was appreciated and his care and thoughtfulness very reassuring. I will definitely use his real estate services in the future.
-Greg and Neda
---
We found Matt was always very professional and available to patiently answer any questions or concerns we had about the sale of our house. From the onset he was confident that it would sell in a timely fashion and he worked diligently to make it happen. His attention to detail helped to show the house the best possible way. We would highly recommend him as a realtor.
-Al and Lorna Mclean
---
We highly recommend Matt Henry as a realtor for several reasons: he is very conscientious, caring and very hard working. He puts in more effort than I have ever seen. He cares about his clients and very much cares that they choose a place that is right for them. He will not encourage you to buy something just to make a sale. He puts your needs first. He's very calm when dealing with stressful situations and won't react until he, and you, have thought your options through. He knows how to stand his ground, when to push and when to back off. And he LISTENS!
His enthusiasm is infectious so be prepared to have fun!
-Paul and Jane
---
We have used Matt Henry to buy and sell our homes. We are very pleased with Matt as a Realtor. He is great at what he does, and he has his clients best interest at heart. When selling our home Matt was on time and at every showing, he made the sale of our house smooth and stress free. And when it came to buying our home, Matt made looking for a home fun and easy.
I have and will continue to recommend Matt Henry to my friends, family and anyone looking for a great Realtor.
-Aimee & Mike
---
Matt Henry had been referred to me as a good candidate for facilitating my search for an apartment. I had very specific characteristics in mind, and Matt did an excellent job of listening to what I wanted and providing me with a list of homes that met my requirements. He also thoroughly researched and discussed findings regarding comparable properties and past histories of buildings. Matt demonstrated an awareness of the nature of various communities and could describe possible future trends. With all of this information, I felt most confident that I was making an informed decision.
My transaction and move took place swiftly. There was one month from the first viewing to moving in. It also involved tricky negotiating to terminate the lease of my previous rental residence. All of these procedures were new to me and the speed and delicacy of the situation was quite stressful. Matt proved to be an extremely patient and reassuring presence. He made himself readily available, seven days a week, to offer advice and guide me through the process. I would not hesitate to recommend Matt Henry as a hardworking, knowledgeable, personable and sensitive realtor who is well capable of finding homes that are well suited to buyers.
-Christine D
---
As first time homebuyers we initially thought the process was going to be daunting especially when we started looking at numerous open houses solo. At that point it seemed to us that personable and honest realtors were non-existent. It wasn't until we met Matt Henry, after we spoke about his listing on Scotia Street, that our attitude about the overall buying experience changed. He was extremely patient with us and answered every question we had during the first few "eye-opening" months. He showed us every listing we wanted to see and his attention to detail was superb. He can look at a listing and make intelligent comments on the quality of craftsmanship, the quality of finishes, the quality of appliances, the quality of the neighborhood… the list goes on! He knew what we wanted and made every effort to find listings that made sense to us without putting on any added pressure. We found the home of our dreams thanks to Matt. I would definitely recommend Matt Henry to friends and family who are looking for a new home in Vancouver.
Thanks again Matt!
-Chris and Karly
---
Moving to the Lower Mainland was effortless with the help of Matt Henry, who went above and beyond to work with us. Matt was open to all our concerns and placed our needs in the forefront of the decision-making process. Having Matt represent us was the key to buying the house we wanted.
-Marc & Nikki
---
I met Matt as a customer at my pizza shop. I have worked with many Realtors in the past 10 years for purchasing and selling, I sold more than 5 places in the past years and bought around 6 homes in the same period , so the number of purchases and sells will show how many Realtors I have been dealt with. I clearly can say Matt Henry is the best Realtor I have ever worked with or ever met. The amount of time and patience and artwork he put in his job is just phenomenal. He cares a lot about his customer and he's very very reliable, polite, enthusiastic and unique in his profession.
I was very satisfied with his service!! You will see a lot of strategies and time he puts into his clients.
All the best to him and I wish all Realtor had at least a bit of his attitude. Cheers.
-Reza
---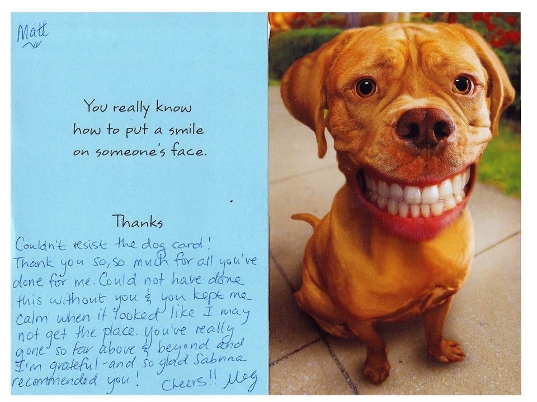 ---
"I've worked with Matt on a few purchases and sales, and always enjoy the experience. He is hard working, laid back, and gives me great recommendations. Matt thinks long term and doesn't want his clients rushing into things if they're not ready for- talk about no pressure!"
-Lori
---
I have found Matt to be an outstanding realtor. He helped me sell my apartment quickly, and then persevered through what seemed like an impossible house hunting expedition. Friends and I were looking to co-buy a house, and it took almost a year to find a house that fit our needs. Through it all, Matt was never anything other than optimistic, patient, and enthusiastic. Matt made me feel like I was his only client- always setting aside whatever time was needed and never making me feel rushed. I wholeheartedly recommend Matt to anyone looking for an honest, hard working, and talented realtor.
-Signe
---
"We first met Matt Henry at an open house while we were only casually house shopping. Over the next several months Matt answered our questions and took us to several home showings so that we could be better informed of the market before deciding to sell. We were impressed by his knowledge of the neighbourhoods, city planning standards and the homes themselves. When it came time for us to sell there was no doubt in our minds that we had chosen the right agent in Matt to sell our home. Through his advertising, timing recommendations and his hard work we sold our home for $20,000 over asking and had seven offers in the first week we listed. Subsequent to selling our home, he worked even harder to quickly find us a new home as we were soon expecting our second child. Matt was always available to answer our questions, make appointments for us, quickly responded to emails and was always friendly and enthusiastic. He made the whole process much less stressful and showed us the value and importance of using a good agent. However, what we have come to appreciate the most about Matt is his honesty, integrity and high ethical standards in every aspect of his work. We highly recommend his services."
-Drs. Candace and Roger (East Vancouver)
---